- Summer Market Guidelines -
The summer market will operate from 7:00 am to 1:00 pm the first Wednesday in June to the last Wednesday in October. The summer market will operate June 7th-October 25th.
Vendors must be set up no later than 7:00 am so that there is no interruption in service. Vendors will be turned away if they arrive after 6:30 am. Vendors will not be permitted to break down setup before 1:00 pm for the summer market.
Large trucks, those over 1.5 tons, must unload and exit the area no later than 7:00 am.
Vendors will be limited to the sale of plants, bakery, produce, consumable items, approved arts and crafts, and related items sold by Farmer's Market vendors and holiday/seasonal items. The sale of other retail flea market items and antiques will not be permitted.
Vendors who must use a vehicle as an integral part of their business are limited to a vehicle with a weight of 1.5 tons or less. Using the vehicle as a holding area is not considered integral to the business. A special usage permit must be filled out, submitted and then approved before any vehicle parking is allowed.
All generators must be silent and approved by Farmer's Market manager.
The Market will close during times of inclement weather.
The Market Manager reserves the right to relocate vendors within the market and to limit the quantity of stall space sold to any vendor.
Vendors are responsible for the cleanup in the vicinity of their operation. No cardboard boxes, fruit, plants, trash, or displays are to be left behind.
Two consecutive no shows, without notification to management, will constitute an automatic termination of a vendor.
First offense will carry a written warning. A second offense will result in terminating a vendor.
No one vendor may reserve more than 15% of the market space unless approved by a committee.
After unloading, all vendor vehicles with a trailer are required to park in the side alley lot or other location as designated by the market manager. All other vendors vehicles must park in the designated parking assigned.
All potential vendors must fill out, email or mail in the application. Vendors are selected on a first come first serve basis as spots become available.
IMPORTANT! READ: DuPage County Health Department - Market Fact Sheet 2015
Thank you for a successful 2023 Elmhurst Farmers market. 
Please join us next year, by visiting us here, January 1st 2024, when we post the next season's application.
Vendor Parking
Any parking of a vendor or helper(s) of the vendor found to be parking for any amount of time past 7:30 a.m on Market days in the customer spaces shown in the map below will not be allowed to attend the following Wednesday's market. If you currently have permission or a permit to park near your booth you are exempt.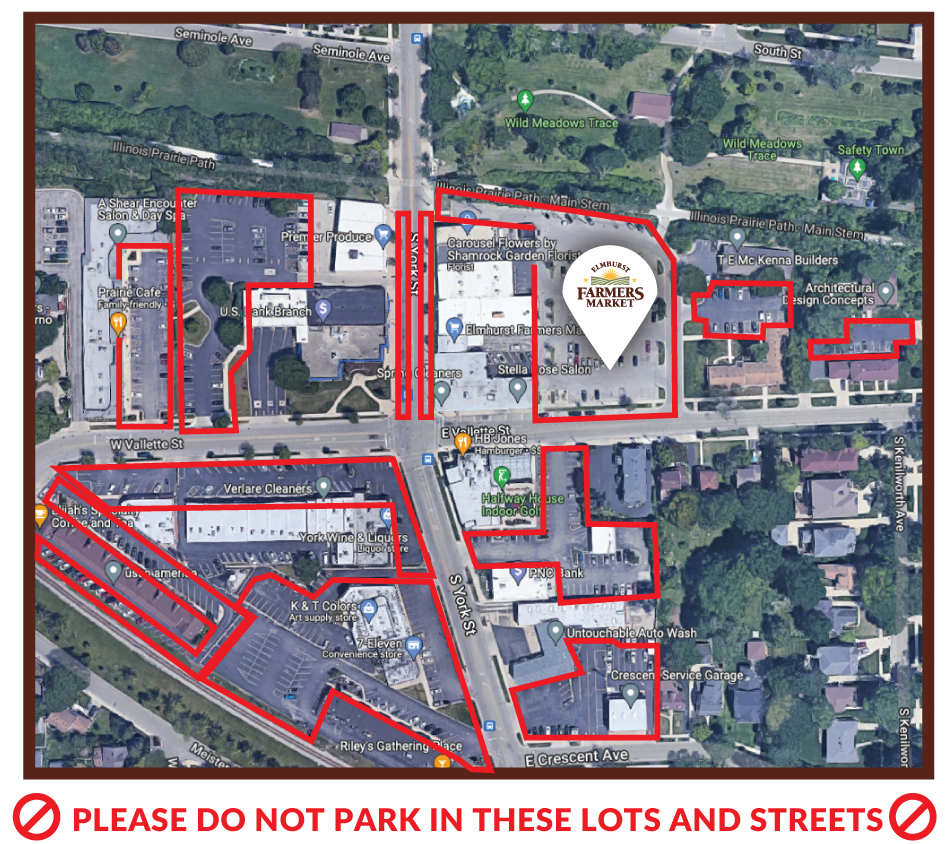 Designated booth and vendor parking is located one block South on E Crescent. Parking is only Westbound between Arlington and Chatham Ave. Please be cognizant of residents, driveways and garbage and recycling receptacle access. If you have a commercial truck please speak with the market manager first for allocated parking.